a path of truth and love - living higher consciousness


The White Rose is a path for you Sisters and Brothers longing to fully walk the path of your soul, to deepen and explore your soul purpose, to open for the voice of your soul to be heard and to be more grounded in who you are and why you are here on Earth right now. White Rose is a path for Sisters and Brothers longing for deeper connection with your soul, to embody your soul on Earth and to live from your multidimensional self in truth and love. White Rose is a journey to your inner Soulful Man and Soulful Woman.

We have choose to reincarnate in this New Time. We are in the Great Shift on Earth and we have stepped into the manifestation of the Golden Age. The big awakening has already happened and we have stepped into the phase of manifesting and anchoring Heaven on Earth. The way to do this is to embody our souls and to live from a higher consciousness of pure love. We have volunteered to be here right now in this important time, to say yes to be in service for Gaia and humanity. To do this we must do our own inner journey. The White Rose offer programs, retreats, events, on-line circles and Sacred Journeys to support your Soulembodiment on Earth.
Welcome to receive White Rose´s Newsletter about upcoming events, retreats, journeys, activations and circles.
With Love ♥

Welcome beloveds to walk, talk, weave and dance with Camilla and the White Rose!

Welcome to receive FREE
Activations, Transmissions, Meditations, Yoga and Talks
- Sign Up at White Rose New Earth Youtube Channel
Events, Sacred journeys, Programs & Activations

White Rose provides sacred spaces, as energetic container of safety, unconditional love and trust –
with programs, circles, events, activations, ceremonies, creative working spaces, sacred birth delivery, birthing educations,
soul journeys and retreats. It includes a way of harmonious living aligned with mother Gaia. It is a space for
men, women and children, a place for all to remember who we are, as pure love and divine children of God,
to reconnect with our longing and embody our souls purpose and unique gifts in this New Time.
Meeting in Presence - zoom call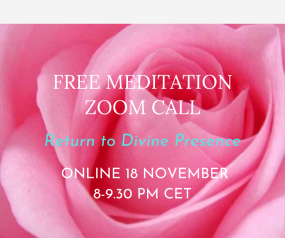 Welcome Beloved Ones,
come and join us in a FREE Meditation Zoom Call - to align your self into the New Earth Energies, receive an Heart Activation and Return to Divine Presence

EVERY SECOND WEEK - FREE
return to divine presence - 21 days ONLINE

A 33 days journey online into embodiment of Your Divine Presence, a level of consciousness where Goddess express from within, as the deepest aspects of our Feminine Self.

ON DONATION!
Return to Divine Presence - Retreat
Welcome Beloved Ones,
into a four day journey, together with Camilla Ma Ra and friends, into your embodiment of Divine Presence. Your True Nature is the embodiment of Divine Presence.

4 DAYS RETRAT - HIMLADAL SWEDEN
The Cosmic Rose -
6 months program
A six month initiatory sacred journey into your highest potential and your Greatest Light. Our ascension into our Greatest Light is truly the greatest service we can give to Gaia and humanity as we open the pathways into the new earth.

ONLINE JOURNEY - WHEREVER YOU ARE!
SACRED JOURNEY EARLIER THIS YEAR
Ancient Wisdom of the North - equinox retreat
I am calling you - one of the "Voices of the Northern Wisdom - from the land of the Thousand Suns" to join us in a 8-day retreat in the North. Bleik in Northern Norway and Lapporten in Northern Sweden., both places of significance during the Gateway of the Equinox.

LAPPORTEN / NORTHERN SWEDEN
BLEIK / NORTERN NORWAY
STARTS 15TH NOVEMBER 2020
CELESTIAL ROSE - 99 DAYS INITIATION JOURNEY
We are heading towards the winter solstice where the Golden Age will be fully anchored. The Celestial Rose journey will prepare you for the winter solstice and through that gateway, and into the New Earth to start walk the Pathless Path and manifesting your souls purpose.

ONLINE - WHEREVER YOU ARE!
All white rose new earth events:
The White Rose is a meeting place for "Light Tribe friends and soul-star family". The White Rose Temple is a portal where the energies and frequency of the New Time are anchored on earth. The "White Rose Light Tribe" is a spiritual community that does not live and stay together, but who walk the path of Love within the White Rose and who cocreate in a beautiful way by sharing their gifts, uniqueness and wisdom together. We believe that it is this way, through love, community and co-creation, that we give birth to and anchor the new Time.